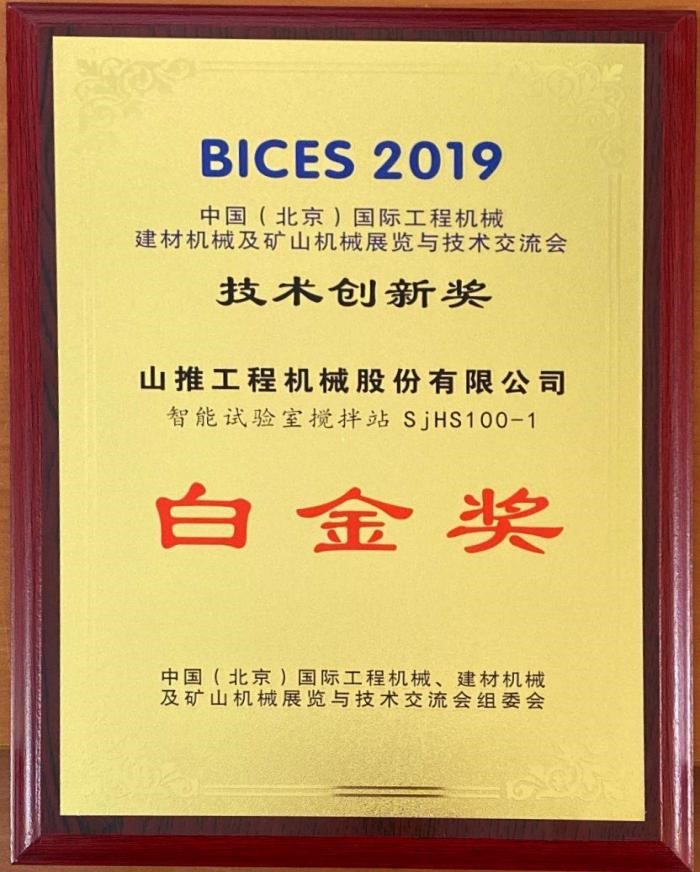 Recently, Shantui Janeoo received an award from the Organizing Committee of the China (Beijing) International Construction Machinery, Building Materials Machinery and Mining Machinery Exhibition and Technology Exchange Conference. The SjHS100-1 intelligent laboratory mixing station independently developed by Shantui Jianyou was evaluated For the BICES 2019 "Technological Innovation Platinum Award".
SjHS100-1 Smart Laboratory Mixing Station is an exhibit of Shantui Janeoo's 2019 BICES Exhibition. With its exquisite appearance, intelligent control system and powerful functions, it attracts the attention and praise of the audience and industry insiders once it is exhibited. The visitors felt the advanced technology and reliable product quality of Shantui Janeoo. This award is well deserved.
The overall structure of the mixing station in Shantui Jianyou Intelligent Laboratory is modularized, and it is convenient to disassemble and transfer. It is composed of batching, metering, mixing, intelligent control, gas path control and other systems. It is suitable for concrete mixing ratio test and can replace manual labor. Realize fully automatic production and improve the efficiency of trial matching.
Among them, the metering of aggregate, powder and water in the batching and metering system is controlled by a microcomputer and automatically measured by an electronic scale; the mixing system adopts a twin-shaft mixing host, a single disc can realize the production of 0.04m³ concrete, and has a variable speed mixing function. High efficiency and good concrete homogeneity; the intelligent control system has the intelligent monitoring function of concrete mixing current, supports Pad wireless remote control and simultaneous application of multiple mixing stations, and can provide customers with data analysis from multiple angles. It can realize the statistical analysis of the concrete batching error, the proportion of raw materials exceeding the tolerance, the completion ratio of the square volume and the distribution of raw materials consumption, the intelligent comparison and analysis of technical index database, the intelligent monitoring of slump, and the detection of concrete homogeneity.
---
Post time: Dec-04-2020